5 janvier 2013
6
05
/

01
/

janvier
/

2013
14:30
Horror movie: Excision 2012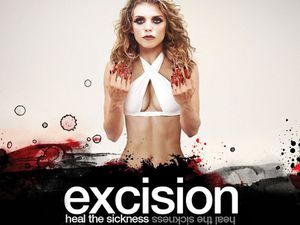 Synopsis:
The story relates about a disturbed high school girl passionate about medicine, who outdoes herself to be accepted by her controlling mother.
Pauline (Annalynne McCord) is the most troubled girl you may ever see on film. While there is no evidence to prove that she is on drugs, that may cross the viewers mind due to the visuals in the film. She wants to be a surgeon one day, due to the fact that her younger sister Grace is dying. The story itself is not what the movie focuses on at all. The film simply needed what little story it had as a placemat to put all of the disgusting visuals, which you will be feeling sick to your stomach all the way until the last credit rolls.
Right off the bat, you immediately know there is a visionary of sorts behind this movie. Starting with an incredibly strange intro which is completely confusing all the way to a number of what you could only describe as nightmares filled with gore and suggestive necrophilia. All of this wrapped into the broken mind of a troubled teen. "Excision" attempts and succeeds in crossing the line in the disgusting department. This may be the grossest movie you have ever seen, and while done in an artistic fashion, leaves the undying impression that some things just aren't meant to be used as art.