5 juillet 2013
5
05
/

07
/

juillet
/

2013
14:58
PLEASE DO NOT MARRY IF: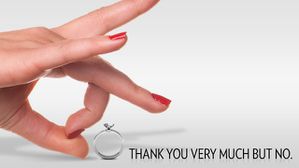 1) You are unwilling to put the needs of another person above your own.
2) You are easily offended, carry grudges and are unwilling to forgive.
3) You are an abusive person (Mentally, emotionally and physically).
4) You are unwilling to commit 100 percent.
5) You have an unresolved addiction problem.
6) Your career more important to you than the relationship.
7) You do not share the same beliefs, values, life priorities or vision.
8) You are not sexually attracted to your partner.
9) You are unwilling to agree on an approach for handling finances, children and life decisions.
10). You expect your spouse to change after you get married.
Remember, successful marriages are not to perfect individuals connecting but rather to people who are willing to grow closer to Christ and each other.
Don't be discouraged if you struggle with any of the above reasons, but before you get married, do yourself and your future spouse a favor by first committing to grow stronger..
Thanks to our friend (Editor of article).