14 mars 2013
4
14
/

03
/

mars
/

2013
11:43
Sandra Miraji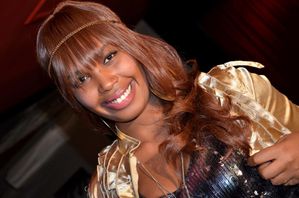 Umulisa Sandra (born March 05), known by her stage name Sandra Miraji is a Rwandasse artist. She was born in Rwanda Kigali, Miraji born to Nadia Mukandutie and Ibrahim Saleh on 5th March 1991, Born in the Family of 7 with 5 pretty girls and 2 handsome boy.
"My names are Umulisa Sandra and my Islamic names are Miraji Aaliyah Ibrahim, my mother loves calling me Sandra and ma father calls me Miraji, that's how i developed ma stage name being Sandra Miraji."
She attended Kigali parents, Camp Kigali, Lyce de Kigali, Kigali Academia, Gisenyi at St. Fidele School and now still in school for her further studies.
Sandra Miraji Started the Game up driven by passion in the 2009 as by the name LADY KAZZI and she only record one Song, after two years she came back with better style and better Name Sandra Miraj.
Back in the game as Sandra Miraji, she Produced Her first song called 'Best Friend' was done by Producer Lick Lick's Unlimited studio and was released in January 2011.
She later did a song called 'Impeta n'urupfu' featuring Green P; she also performed in rappers all stars song 'Imari Iziritse', then Byakaze, Icyemezo, Isezerano ft Knowles, Andi mahirwe, Intambwe and Many more.
Ever since she was a little girl, she loved music and she liked Eve and Dabrat artists and she could mime their songs at school for other students.