25 janvier 2013
5
25
/

01
/

janvier
/

2013
15:44
Scary film: Mama (2013)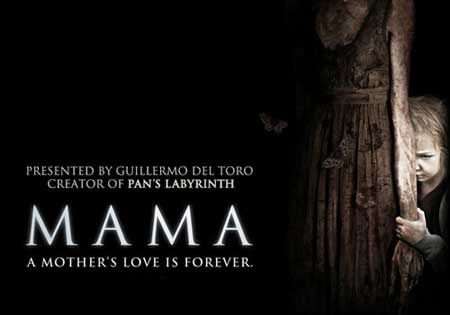 SYNOPSIS:
Annabel and Lucas are faced with the challenge of raising his young nieces that were left alone in the forest for 5 years…. but how did they survive all alone in the wilderness? And were they really alone?
As the film begins we hear a reporter talking bout some type of fiscal nightmare that has Wall Street reeling and is being called the worst financial crash of all time. Jeffrey (Nicolaj Coster-Waldau) is in his home listening to the report and sweating profusely, obviously upset about the news, or maybe he's upset that the report states that he's just shot and killed his business associates and is being sought by the police. His 3 yr. old daughter, Victoria (Megan Charpentier) and her 1 yr. old sister, Lilly (Isabelle Nelisse) are dressed and asking for their mom. Sadly, Jeffrey has pretty much flipped his wig and shoots mom as well. He then gathers the girls up and drives away in the middle of a heavy snowstorm. Extremely distraught (& still armed) he drives recklessly on icy, snow covered roads and despite hearing Victoria warn him that he's driving too fast he continues until running of of the road into a snow covered embankment. Miraculously the three of them survive with minimal damage (Victoria's glasses get busted up) and they begin to trudge through the frosty foilage looking for some sort of shelter from the ever worsening storm.
They come upon a small abandoned cottage where Jeffrey manages to start a fire to keep the kids warm. As Victoria wanders about she calls out claiming that someone is outside & their feet aren't on the ground! Jeffrey ignores her claims and readies his pistol to shoot her in the back of the head when his neck is suddenly broken by something but what? We then see the girls sitting in front of the dwindling fire, seemingly contemplating their fate when someone rolls a cherry across the floor to them. Then that same something comes up behind them. Cut to 5 years later and the girls uncle Lucas (Nicolaj Coster-Waldau again) has been searching fruitlessly for them, going so far as to hire professional trackers to help. And they do eventually come across the dilapidated cottage. And once inside they find a mountain of dried cherry pits and the two (Now feral) children...