26 décembre 2012
3
26
/

12
/

décembre
/

2012
15:24
Southland - Good Serie to watch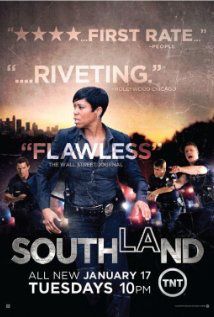 Southland takes a raw look at Los Angeles as it is in the 2000s and as well at the lives of the officers of the Los Angeles Police Department who are trying to contain it.
Southland (stylized as SouthLAnd) is an American drama series created by writer Ann Biderman and produced by Warner Bros. Television. It premiered on NBC on April 9, 2009. On May 1, 2009, NBC announced that Southland had been renewed for a second season with an initial 13-episode order to begin airing on Friday, September 25, 2009 at 9:00 pm, one hour earlier than its original time slot. On August 27, 2009, shortly before its scheduled premiere, NBC moved the opening of its second season to October 23, 2009, citing the need to promote the show more fully. On October 8, 2009, NBC announced that the series had been canceled.
On November 2, 2009, TNT announced it has purchased the rights to Southland's original seven episodes, as well as six completed episodes from its second season. Southland began airing on TNT on January 12, 2010. On April 26, 2010, TNT announced it had picked up Southland for a ten-episode third season to begin airing on January 4, 2011. TNT's renewal of the show included a substantial budget cut and corresponding cast reduction. Southland was renewed for a ten-episode fourth season on March 22, 2011, which premiered on January 17, 2012.
The series was renewed for a ten-episode fifth season beginning February 2013.